Yakushima, the first Natural World Heritage site in Japan, celebrates its 30th anniversary of designation this year. While the peak in tourist numbers has passed, it remains a popular destination, drawing travelers not only from within Japan but also from abroad.I visited Yakushima, having paved the way as both a World Heritage site and a tourist destination, to gain insights into the path that Amami Oshima for the future.The objective was to understand the mindset of the local guides, particularly adept at handling inbound tourism, and how they conduct tours. On the first day, I joined a tour led by Mr. Aida Junichi (Jun), a representative of Yakushima Geographic Tour.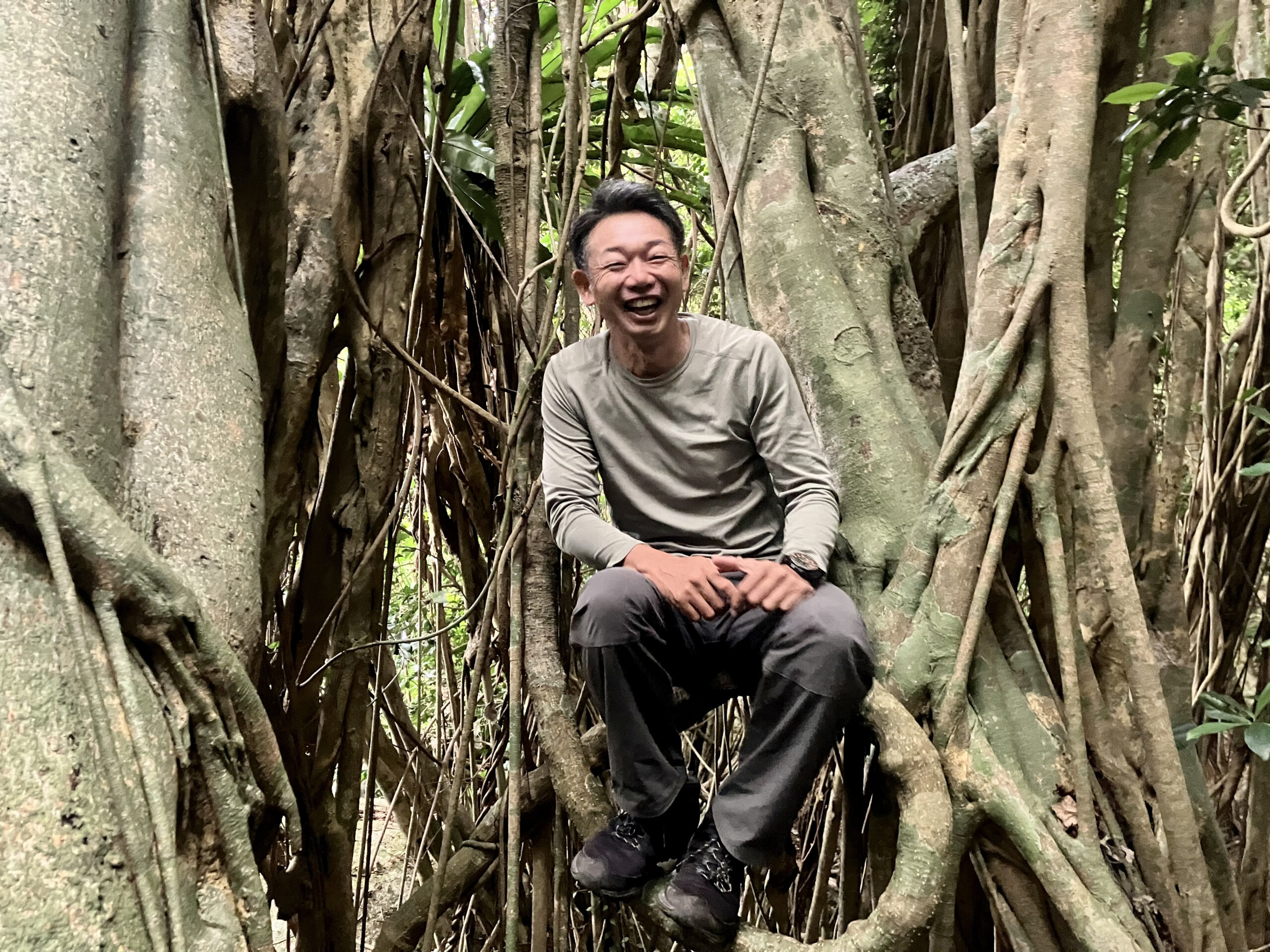 Shifting gears a bit, in September of this year, the Adventure Travel World Summit, a business event gathering travel professionals from around the world, was held in Hokkaido. Yakushima was the location for the Pre-Summit Adventure (PSA) tours that took place prior to this event. Jun was the tour's through guide during this tour. It was a must to go and hear the stories. That's why Jun guided me through one of the PSA courses, the western forest.

When we think of Yakushima, images of Shiratani and Jomon Sugi come to mind, and the Western Forest Road might not be as familiar. However, that's the point. The true essence of this tour is experiencing the 'authentic' untouched nature that hasn't been developed for tourism.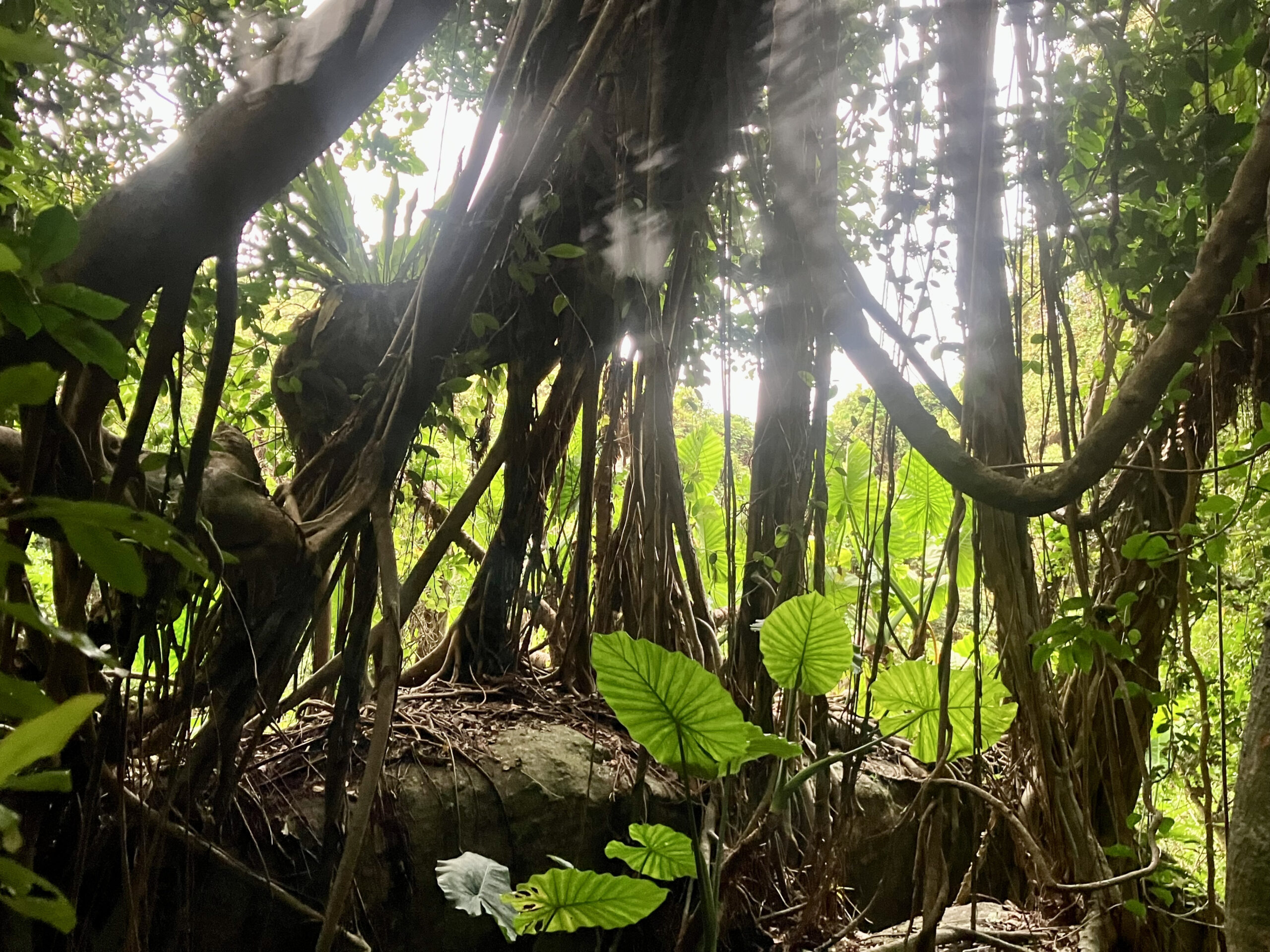 The Western Forest Road isn't commercialized, and during the tour, we didn't run into anyone. Instead, deer and monkeys were running around, and they didn't pay much attention for us.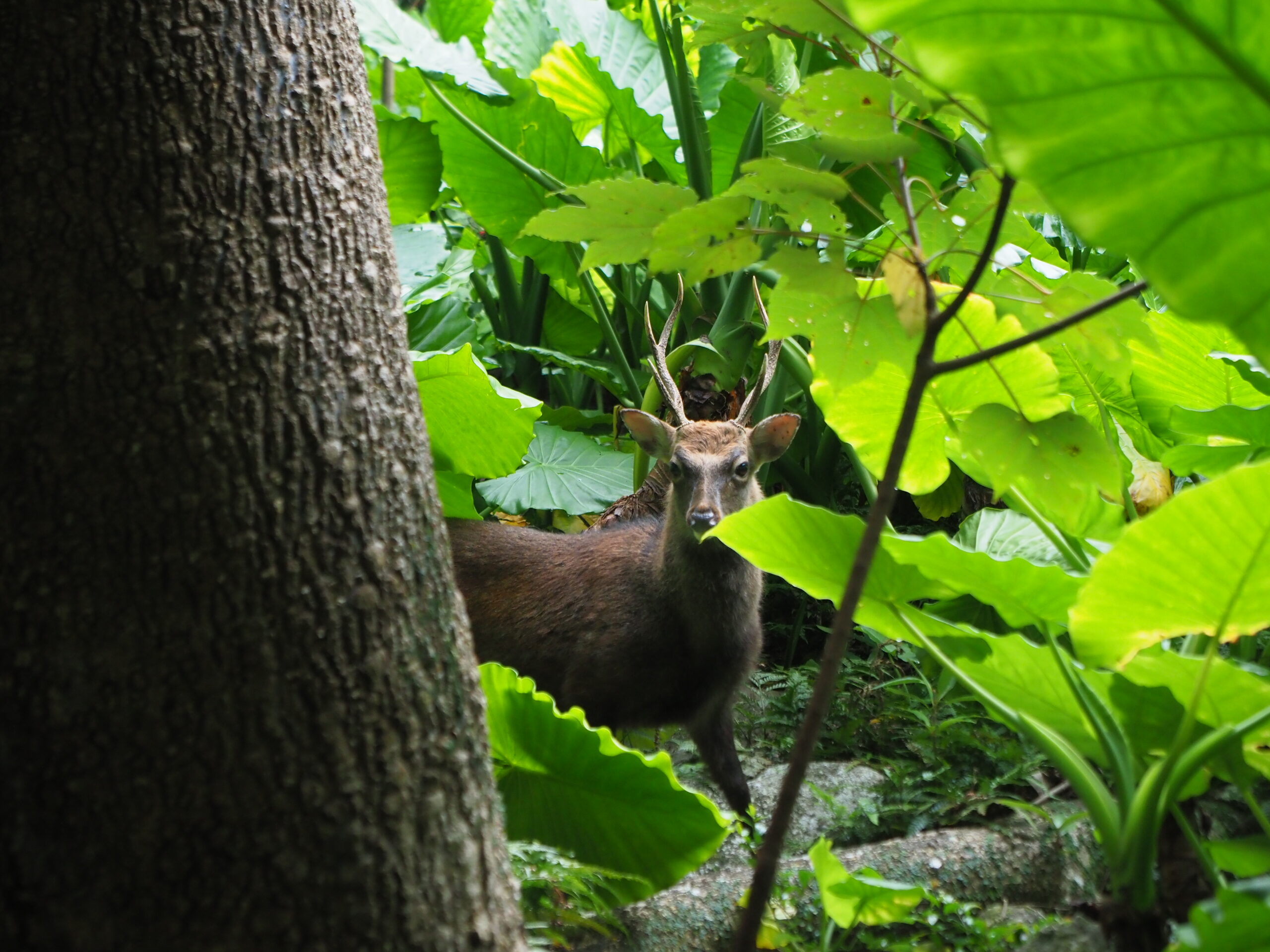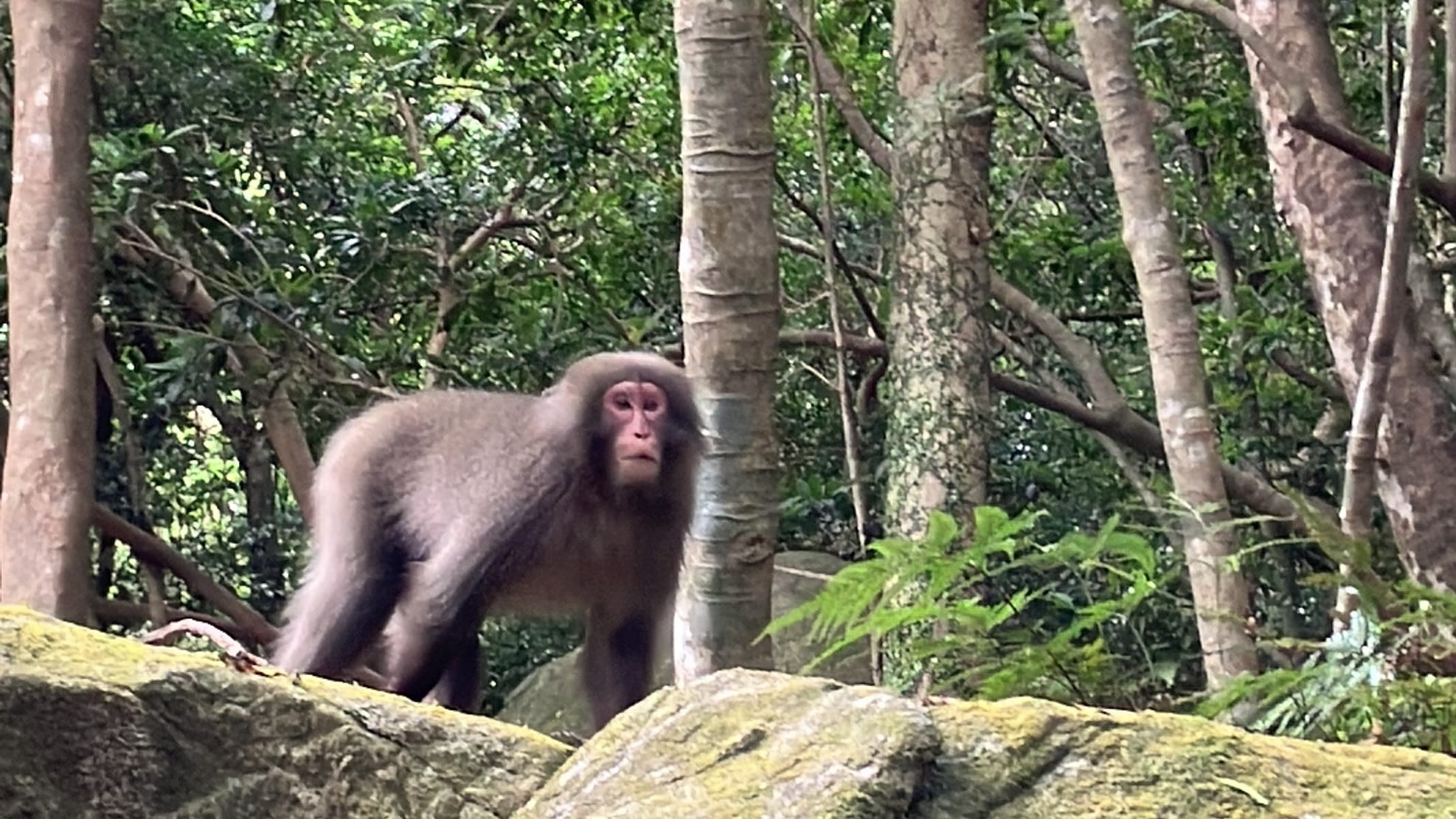 The plants were growing abundantly.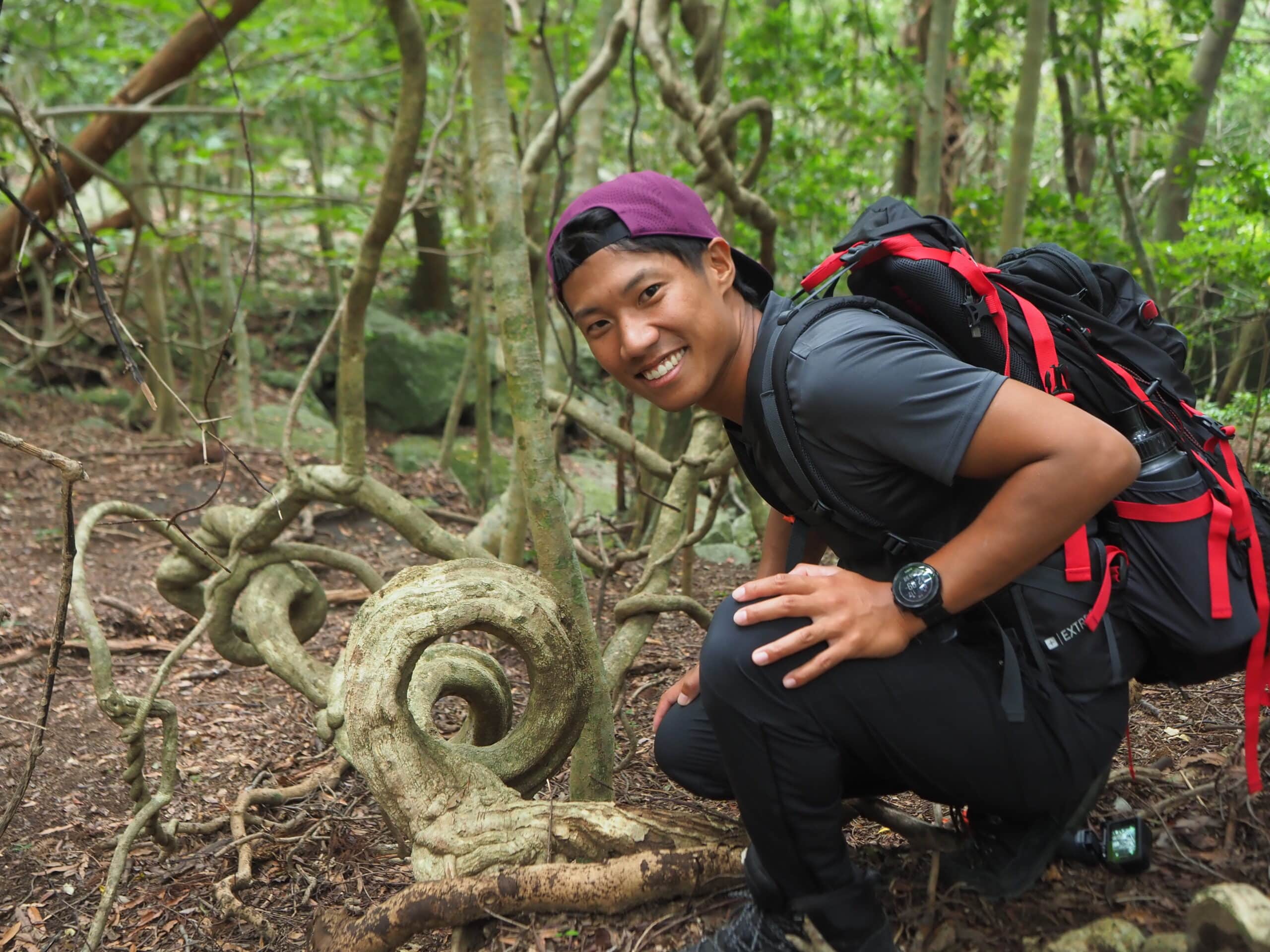 Jun mentioned that while being able to speak English and having knowledge are important factors when guiding foreign visitors, ultimately, one's personality are crucial. Indeed, participating in the tour this time, Jun's pleasant personality and his enjoyable way of guiding made a great impression. It was a meaningful day where we got to learn about the current situation on Yakushima and hear insights from a guide's perspective. Frankly, the tour was incredibly enjoyable, so when you visit Yakushima, I highly recommend joining Jun's tour.
 日本で初めて世界自然遺産に登録され、今年で登録30年を迎える屋久島。観光客数のピークは過ぎたとのことですが、旅行先としてまだまだ人気があり海外からの旅行者も多い島です。世界遺産としても観光地としても奄美大島にとっては先輩的な存在である屋久島に視察に訪れました。目的は、インバウンド対応に長けた現地のガイドさんがどの様なマインドを持ってツアーを行っているのかを知ること。初日は「自然のポケット」代表の会田さんのツアーに参加しました。

 少し話は変わりますが、今年9月にAdventure Travel World Summit という、世界中の旅行関係者が一堂に集う商談イベントが北海道で開催されました。屋久島はこのイベント前に行われるPre Summit Adventure(PSA)のツアー実施場所でした。そのツアーでスルーガイドという全行程同行するガイドを務めたのが会田さんです(お客様は外国人なので全行程英語)。お話を聞きにいかないわけにはいかないですよね。ということで、PSAのコースの一つである西部林道をご案内していただきました。

 屋久島といえば白谷雲水峡や縄文杉のイメージが強く、西部林道は聞き慣れないと思います。でも、そこがミソで、観光地化されていない「本物」の自然を見ることがこのツアーの醍醐味です。西部林道は素晴らしいくらいに観光化されておらず、ツアー中は誰にも会うことがありませんでした。その代わり、シカやサルがイキイキと走り回っていて、私たちがいても気に留めない様子でした。植物も延びたい放題です。

 会田さんが言っていたこと、外国人の方をご案内する中で、英語が話せるとか、知識があるとか大切な要素は沢山あるけど、結局は人柄が大事、とのこと。今回ツアーに参加してみても、会田さんの人柄の良さと遊びながら案内している姿が素敵でしたね。屋久島の現状やガイド目線での話も色々聞けて有意義な1日でした。率直に、ツアーとして凄く楽しかったので屋久島に行く時には是非会田さんのツアーに参加してみてください。