Have you ever administered first aid to someone? In Amami Oshima Island, there are about 4,000 emergency calls annually, and if you live on the island, you hear the sirens of ambulances almost every day.

In January of this year, I found an elderly person collapsed in front of my house and called for an ambulance. At that time, it turned out they had just fallen and were bleeding due to intoxication, so it wasn't a serious situation, but you never know when you might encounter a life-threatening situation. That's why, on October 24th, I took an advanced first aid training course.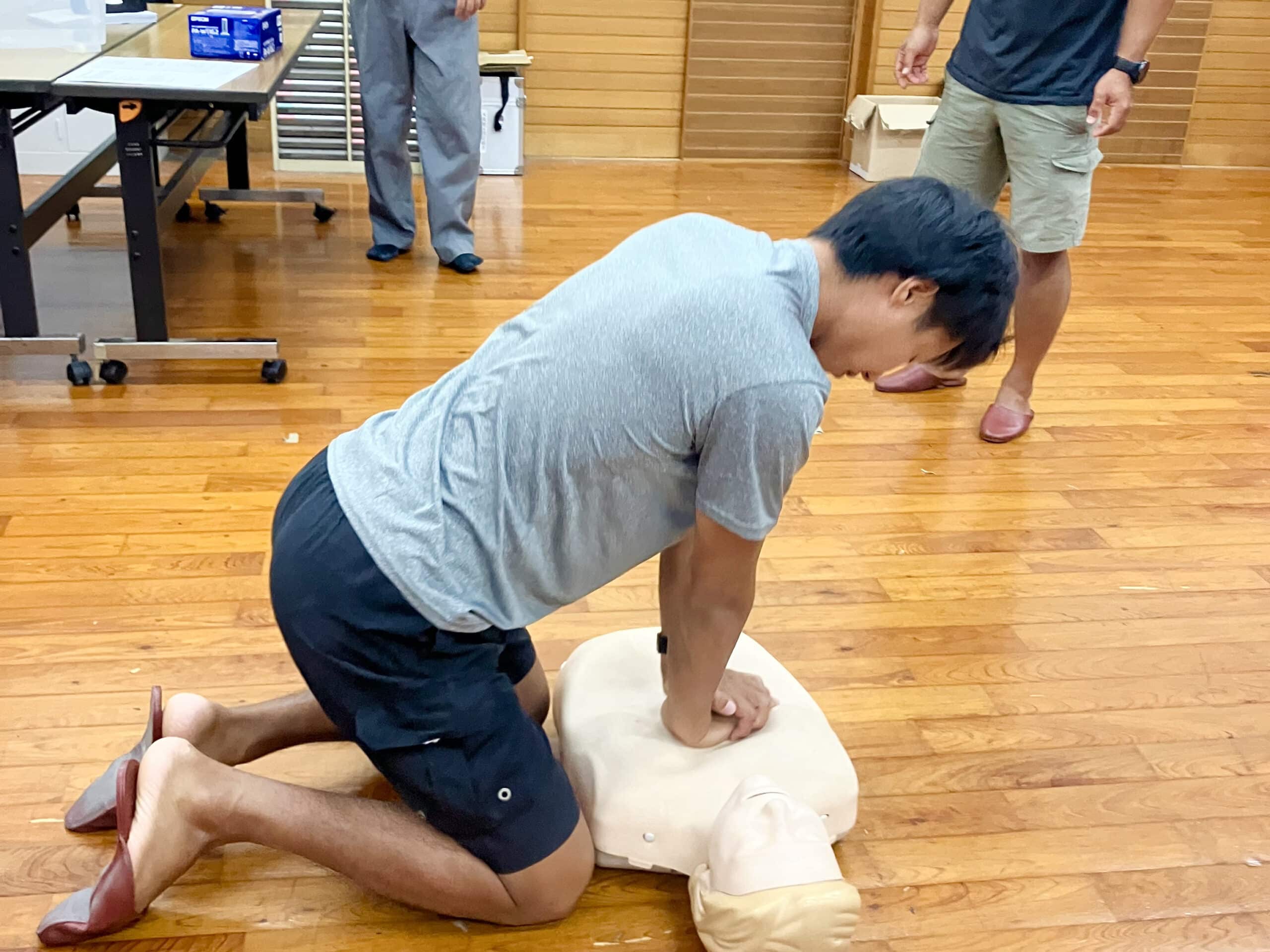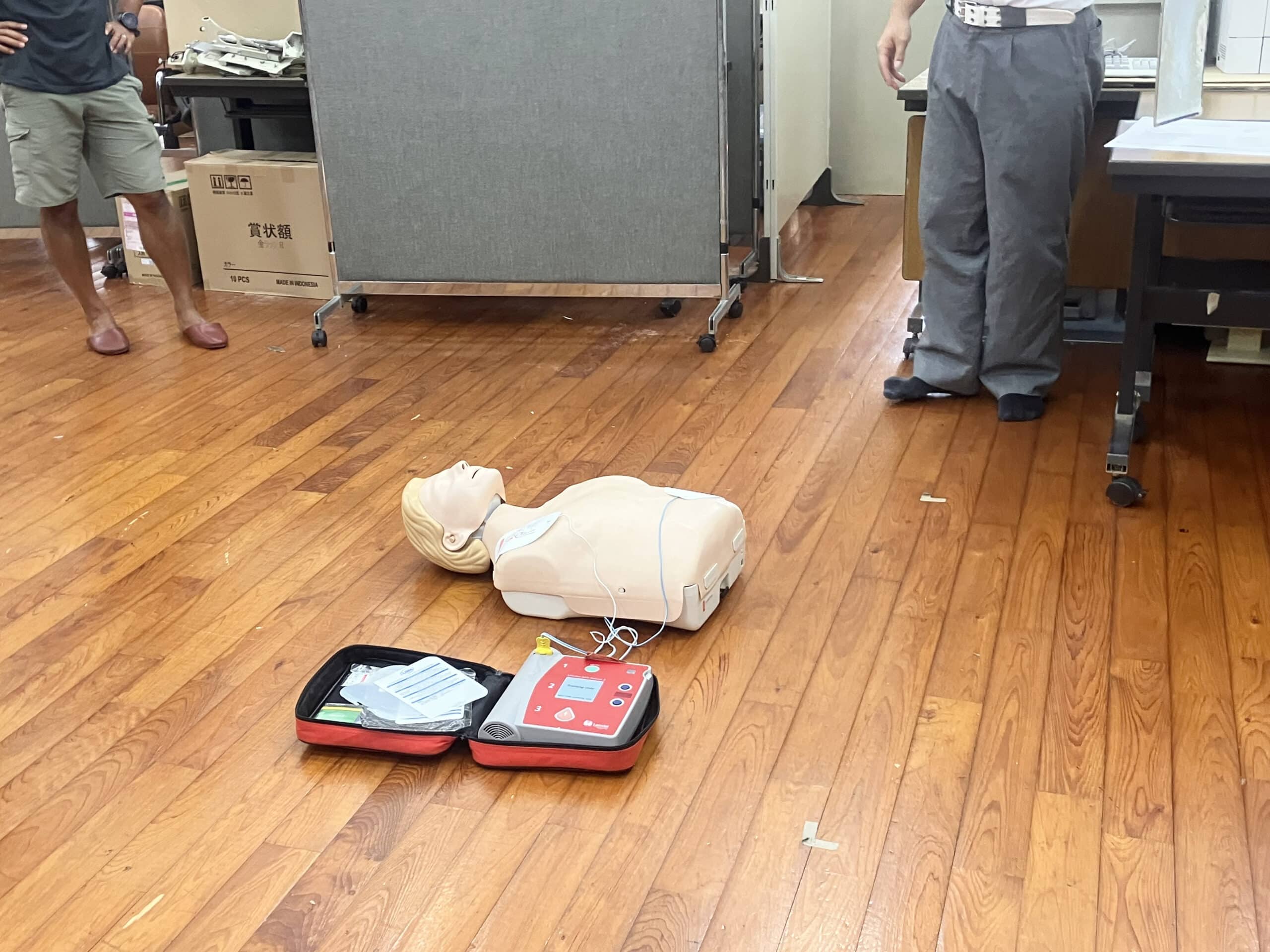 Being able to provide appropriate first aid when you come across an injured or ill person can make a significant difference. It's said that it takes an average of 9 minutes for an ambulance to arrive after making a call, and those 9 minutes can be crucial in saving a life. During this training, we learned practical skills, such as cardiopulmonary resuscitation (CPR), how to use an automated external defibrillator (AED), and first aid for bleeding. For chest compressions, it's crucial to perform them at a rate of 100 times or more per minute with the correct technique and arm extension. When using an AED, follow the voice instructions calmly. A triangular bandage can be useful for both stopping bleeding and immobilization. I learned a lot.

Among all the topics covered, the concern for snakebites from Habu snakes is significant in Amami Oshima Island. However, it seems that there isn't a well-established first aid procedure for Habu snakebites. Even I carry a poison remover during tours, but it seems there's uncertainty about its effectiveness as well. In Amami Oshima, Habu snakes are a common risk, so I feel the need for further information and preparation.

I strongly recommend that everyone takes a first aid training course at least once to be prepared for emergency situations that can happen at any time.
 皆さんは他人の応急処置をしたことがありますか?奄美大島では年間約4000件の救急通報があるらしく、島に住んでいると毎日のように救急車のサイレンの音を耳にします。私は今年1月に自宅前で倒れている老人を発見し救急通報しました。その時は酔っ払って倒れて血が出ていただけなので大事には至りませんでしたが、いつ命の危機に遭遇するかは分かりません。そこで10月24日上級救命士講習を受講しました。
 傷病者がいる場に居合わせた時、適切な応急処置ができるかどうかが明暗を分けます。通報してから救急車が来るまで平均9分らしいですが、その9分間命を繋げるかがとても大切です。この講習では、心肺蘇生法やAEDの使い方、出血時の応急処置などを実技を交えて学びます。胸骨圧迫は1分間に100回以上のペースで肘を伸ばして正しいフォームで。AEDは音声に従って落ち着いて使用する。三角巾は止血にも固定にも使えて便利。たくさん学びがありました。
 中でも、奄美大島においてはハブ咬傷が心配されます。ところが、ハブ咬傷の応急処置は確立されていないとのこと。私もツアー中はポイズンリムーバーを持ち歩いていますが、これに関しても是非があるようです。奄美大島においてハブは身近なリスクなので自分でも情報収集が必要と感じました。皆さんもいつ遭遇するか分からない救急現場に備えて一度受講されることをおすすめします。